HIGH-TECH LONG AUTOMATIC UMBRELLA + SPECIAL WINDPROOF COMPASS SHAFT ADVANCED TECHNOLOGY . BAT
31 March 2021
HIGH-TECH LONG AUTOMATIC UMBRELLA + SPECIAL WINDPROOF COMPASS SHAFT ADVANCED TECHNOLOGY . BAT
59,00€
DESCRIPTION:
– HIGH-TECH Automatic Long Umbrella, with snap opening by touch of a button extraordinarily stable and smooth while having large dome.
– Special COMPASSED, TILTING + BASCULATING WINDSHIP Advanced Technology, ideal for withstanding winds from different directions over 100 km/h.
– EXTRA LARGE XL size dome with a diameter of 105 cm.
– The steel and aluminum mechanism with special TOTAL FIBER BRACKETS assure light weight and flexibility but held with gusts of wind from different directions due to the compass mechanism that allows tilting and swinging of the dome. Tilting the dome facilitates normal repositioning of the structure without damage, easily and immediately.
– High quality materials for long service life, with special anti-corrosion and anti-oxidation treatment.
– Fast-drying, high-density 100% Polyester Pongee fabric in four colorways.
– Exclusive metallic silver or black H.DUE.O HIGH-TECH embossed logos.
– Curved matte black handle with metal silver insert.
– Reinforced "Waterproof Easy Closing" zippered sheath with wide opening for easy repositioning of the umbrella inside.
---
TECHNICAL DETAILS:
– TYPE: LONG AUTOMATIC ADVANCED TECHNOLOGY
– MEASUREMENTS: CLOSED 89 cm. – DOME DIAMETER 105 cm.
– DOME: EXTRA LARGE – 8 SEGMENTS WITH ULTRA-FLEXIBLE TOTAL FIBER SLATS
– TECHNOLOGY: HIGH RESISTANCE WIND PROOF "Excellent Strong Wind Test"
– BUST: "HDUEO Top Quality Approved" REINFORCED BUST – COLOR BLACK
– FINISHES: HIGH QUALITY ANTI-CORROSION AND ANTI-OXIDATION
– FABRIC: 100% HIGH-DENSITY, QUICK-DRYING POLYESTER PONGEE
– HANDLE: CURVED MATTE BLACK WITH METAL SILVER INSERT
– LINING: REINFORCED WITH ZIPPER
– WEIGHT: 425 gr.
---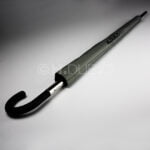 HIGH-TECH LONG AUTOMATIC UMBRELLA + SPECIAL WINDPROOF COMPASS SHAFT ADVANCED TECHNOLOGY . BAT