HIGH-TECH AUTOMATIC OPEN/CLOSE UMBRELLA XL 10 SLATS WINDPROOF HIGH STRENGTH . STRATOS
31 March 2021
HIGH-TECH AUTOMATIC OPEN/CLOSE UMBRELLA XL 10 SLATS WINDPROOF HIGH STRENGTH . STRATOS
65,00€
DESCRIPTION:
– HIGH-TECH Automatic Open/Close umbrella, with snap opening and closing at the touch of a button and stable and smooth movement though large dome.
– Special REINFORCED shaft with 10 Windproof Battens Advanced Technology, for holding in strong winds.
– EXTRA LARGE size dome with a diameter of 102 cm. and 10 segments to offer better wind resistance.
– The steel and aluminum mechanism with SPECIAL FIBER STECKS ensures maximum elasticity and flexibility so that the dome can be tipped over in strong gusts of wind . The tilting of the dome facilitates the normal repositioning of the structure without damage, easily and immediately even through the use of the closing button.
– High quality materials for long service life, with special anti-corrosion and anti-oxidation treatment.
– High-density, fast-drying 100% Polyester Pongee fabric in two colorways.
– Exclusive metallic H.DUE.O HIGH-TECH embossed logos.
– Ergonomic handle designed for a perfect hold in strong winds, in matte black with Carbon finishing insert.
– Reinforced sheath with "Waterproof Easy Closing" zipper with wide opening for easy repositioning of the umbrella inside.
---
TECHNICAL DETAILS:
– TYPE: AUTOMATIC OPEN/CLOSE ADVANCED TECHNOLOGY
– MEASUREMENTS: CLOSED 33 cm. – DOME DIAMETER 102 cm.
– DOME: EXTRA LARGE FOLDING – 10 SLATS WITH FIBER ENDS
– TECHNOLOGY: HIGH RESISTANCE WINDPROOF "Excellent Strong Wind Test Approved"
– BUST: REINFORCED BUST "HDUEO Top Quality Approved" TECHNOLOGY – COLOR ALUMINIUM
– FINISHES: HIGH QUALITY ANTI-CORROSION AND ANTI-OXIDATION
– FABRIC: 100% HIGH-DENSITY, QUICK-DRYING POLYESTER PONGEE
– HANDLE: ERGONOMIC IN MATTE BLACK WITH CARBON FINISHING INSERTS
– LINING: REINFORCED WITH ZIPPER
– WEIGHT: 450 gr.
---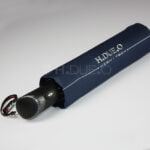 HIGH-TECH AUTOMATIC OPEN/CLOSE UMBRELLA XL 10 SLATS WINDPROOF HIGH STRENGTH . STRATOS