BARBARA VEE COLLECTION WINDPROOF UMBRELLA . HEART
10 December 2020
BARBARA VEE COLLECTION WINDPROOF UMBRELLA . HEART
32,00€
DESCRIPTION:
– Special Collection BARBARA VEE for H.DUE.O, featuring the iconic themes from the exclusive design with special printing systems.
– Hand-opening umbrella, which can be easily closed and folded thanks to its three-section structure.
– Windproof aluminum shaft for a light and handy umbrella.
– High quality materials for long service life.
– The tilting mechanism, with fiber terminals, allows the dome to be tilted back in case of wind blows and facilitates the normal repositioning of the structure.
– 100% Polyester Pongee fabric with high density and fast drying.
– Exclusive HEART by BARBARA VEE COLLECTION design with special print quality to achieve the effect of knitted hearts.
– HEART handle, rounded and polished, very comfortable to hold, matching fabric.
– Matching liner.
---
PRODUCT DETAILS:
– TYPOLOGY: MINI MANUAL
– MEASUREMENTS: CLOSED 27 cm. – DOME DIAMETER 98 cm.
– DOME: CLASSIC/LARGE – 8 SEGMENTS
– TECHNOLOGY: WINDPROOF – METAL SLATS AND FIBER ENDS
– DRUM: ALUMINUM – BLACK COLOR
– FABRIC: 100% POLYESTER PONGEE HIGH DENSITY AND FAST DRYING
– HANDLE: HEART-SHAPED TO MATCH FABRIC
– WEIGHT: 290 g
---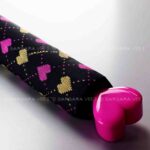 BARBARA VEE COLLECTION WINDPROOF UMBRELLA . HEART