BARBARA VEE COLLECTION AUTOMATIC WINDPROOF UMBRELLA ULTRA . WHITE CAT
8 September 2023
BARBARA VEE COLLECTION AUTOMATIC WINDPROOF UMBRELLA ULTRA . WHITE CAT
44,00€
DESCRIPTION:
– Special Collection BARBARA VEE for H.DUE.O, with theICONIC AND UNCONFONDIBLE WHITE CAT – The Original.
– 100% Polyester Pongee fabric with high density and fast drying.
– Automatic umbrella with snap-open with the touch of a button, easily folded and collapsible thanks to its three-section structure.
– Reinforced Windproof Ultra Tilting Drum
with
Reinforced Joints.

– The steel and aluminum mechanism with FIBER TERMINALS ensures stability and flexibility at the same time, so that the dome can be tipped over in case of sustained gusts of wind . Tilting the dome facilitates normal repositioning of the structure without damage, easily and immediately.
– High quality materials for long service life, with special anti-corrosion and anti-oxidation treatment.
– Italian Exclusive Design by BARBARA VEE COLLECTION – WHITE CAT
– Two-tone black and cream handle.
– Matching White Cat design scabbard with wide opening for easy repositioning of the umbrella inside.
---
TECHNICAL DETAILS:
– TYPE: AUTOMATIC FOLDING
– MEASUREMENTS: CLOSED 27.5 cm. – DOME DIAMETER 98 cm.
– DOME: CLASSIC/LARGE – 8 SEGMENTS WITH METAL AND FIBER SLATS
– TECHNOLOGY: HIGH-RESISTANCE REINFORCED WINDPROOF "Excellent Wind Test"
– BUST: BUST WITH REINFORCED JOINTS "HDUEO Quality Approved" TECHNOLOGY – COLOR BLACK
– FINISHES: HIGH QUALITY ANTI-CORROSION AND ANTI-OXIDATION

– TE
SSUTO: 100% HIGH-DENSITY, FAST-DRYING PONGEE POLYESTER
– HANDLE: TWO-TONE BLACK/CREAM
– SCABBARD: MATCHED
– WEIGHT: 318 gr.
---
TECHNICAL FEATURES:
– 28 cm mini umbrella
– Classic dome diameter 98 cm
– Automatic drum with "Wind test approved" windproof technology
– High quality polyester fabric
– Ultra-fast drying
– Wands with fiber endings
DETAILS:
– Ivory/black tinted handle
– Matching liner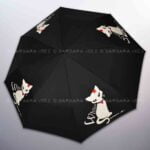 BARBARA VEE COLLECTION AUTOMATIC WINDPROOF UMBRELLA ULTRA . WHITE CAT