WINDPROOF LIGHTWEIGHT MINI UMBRELLA . JOYHEART
1 September 2023
WINDPROOF LIGHTWEIGHT MINI UMBRELLA . JOYHEART
29,00€
DESCRIPTION:
– Hand-opening umbrella, which can be easily closed and folded thanks to its three-section structure.
– Windproof aluminum shaft for a light and handy umbrella.
– Large size Classical dome.
– High quality materials for long service life.
– The mechanism with fiber terminals, allows the dome to be tipped over in case of wind blows and facilitates the normal repositioning of the structure.
– 100% Polyester Pongee fabric with high density and fast drying.
– Exclusive design by H.DUE.O with "Colour Emotion" phrases, in a choice of five color variants.
---
PRODUCT DETAILS:
– TYPE: MINI MANUAL LIGHT WEIGHT
– MEASUREMENTS: CLOSED 25 cm. – DOME DIAMETER 97 cm.
– DOME: CLASSIC/LARGE – 8 SEGMENTS
– TECHNOLOGY: WINDPROOF – METAL SLATS AND FIBER ENDS
– DRUM: ALUMINUM – BLACK COLOR
– FABRIC: 100% POLYESTER PONGEE HIGH DENSITY AND FAST DRYING
– HANDLE: BLACK
– WEIGHT: 295 gr.
---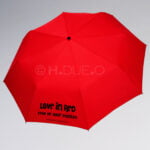 WINDPROOF LIGHTWEIGHT MINI UMBRELLA . JOYHEART