XXL AUTOMATIC LONG UMBRELLA 10 SLATS TOTAL FIBER WINDPROOF ADVANCED TECHNOLOGY . COHIBA
27 November 2022
XXL AUTOMATIC LONG UMBRELLA 10 SLATS TOTAL FIBER WINDPROOF ADVANCED TECHNOLOGY . COHIBA
74,00€
DESCRIPTION:
– High-Tech Automatic Long Umbrella technology, snapping open at the touch of a button, remaining remarkably stable and smooth even with maxi dome.
– Special 10-stick shaft reinforced Windproof Advanced Technology.
– MAXI XXL size dome with a diameter of as much as 120 cm. and 10 segments for the best wind resistance.
– The steel and aluminum mechanism with TOTAL FIBER STECKS + REINFORCEMENT SPRINGS, provides a skillful combination of elasticity and maximum stability so as to achieve dome anti-tip, capable of withstanding strong winds.
– High quality materials for long service life, with special anti-corrosion and anti-oxidation treatment.
– 100% Polyester Pongee fabric with high density and fast drying.
– Patterned with tiny refined polka dot "pinhead", in your choice of three color variants.
– Elegantcurved handle made of real wood in dark flamed maple color.
– Matching sheath with opening for easy repositioning of umbrella inside.
---
TECHNICAL DETAILS:
– TYPE: LONG AUTOMATIC ADVANCED TECHNOLOGY
– MEASUREMENTS: CLOSED 98 cm. – DOME 122 cm.
– DOME: MAXI XXL – 10 SEGMENTS WITH TOTAL FIBER ANTI-TIP/ULTRASTABLE SLATS
– TECHNOLOGY: HIGH RESISTANCE WINDPROOF "Excellent Wind Test Approved"
– BUST: ENLARGED BUST + REINFORCED SPRINGS, "HDUEO Top Quality Approved" TECHNOLOGY – COLOR GUN METAL
– FINISHES: HIGH QUALITY ANTI-CORROSION AND ANTI-OXIDATION
– FABRIC: 100% HIGH-DENSITY, QUICK-DRYING POLYESTER PONGEE
– HANDLE: CURVED WOOD COLOR DARK FLAMED MAPLE
– SCABBARD: MATCHED
– WEIGHT: 540 gr.
---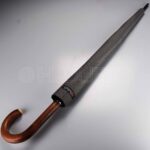 XXL AUTOMATIC LONG UMBRELLA 10 SLATS TOTAL FIBER WINDPROOF ADVANCED TECHNOLOGY . COHIBA