AUTOMATIC OPEN/CLOSE ULTRALIGHT POCKET WINDPROOF UMBRELLA . CHECK
11 November 2021
AUTOMATIC OPEN/CLOSE ULTRALIGHT POCKET WINDPROOF UMBRELLA . CHECK
39,00€
DESCRIPTION:
– Automatic Open/Close Umbrella for opening and closing the umbrella with the touch of a button.
– Windproof aluminum and steel shaft for an ultralight and handy umbrella.
– The pocket size umbrella + Automatic Open/Close mechanism make it an extraordinary and unique umbrella.
– High quality materials for long service life.
– The tilting mechanism, with fiber terminals, allows the dome to be tilted back in case of wind blows and facilitates the normal repositioning of the structure.
– 100% Polyester Pongee fabric with high density and fast drying.
– Patterned in your choice of six plaid variations.
---
PRODUCT DETAILS:
– TYPE: MICRO AUTOMATIC POCKET OPEN/CLOSE
– MEASUREMENTS: CLOSED 20 cm. – DOME DIAMETER 88 cm.
– DOME: URBAN – 6 SEGMENTS
– TECHNOLOGY: WINDPROOF – METAL SLATS AND FIBER ENDS
– DRUM: HDUEO APPROVED – ALUMINUM COLOR
– FABRIC: 100% POLYESTER PONGEE HIGH DENSITY AND FAST DRYING
– HANDLE: MATCHING
– WEIGHT: 252 gr. – ULTRALIGHT
---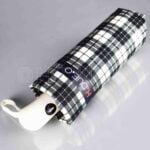 AUTOMATIC OPEN/CLOSE ULTRALIGHT POCKET WINDPROOF UMBRELLA . CHECK