MICRO ULTRALIGHT POCKET UMBRELLA + ANTI U.V . SUNPROTECTION
11 November 2021
MICRO ULTRALIGHT POCKET UMBRELLA + ANTI U.V . SUNPROTECTION
30,00€
DESCRIPTION:
– MICRO POCKET Umbrella WITH U.V. PROTECTION for shielding up to 90%, manual opening, easily folded.
– Windproof aluminum shaft for an ULTRALIGHT and handy umbrella , only 195 grams.
– The micro size and minimal weight make it perfect for carrying around all the time, even in very small bags or backpacks.
– Classic size dome for perfect coverage while still having the pocket size of the closed umbrella.
– The mechanism with fiber terminals, allows the dome to be tipped over in case of wind blows and promotes normal repositioning of the structure.
– High quality materials for long service life.
– High-density, fast-drying 100% Polyester Pongee fabric in six colorways.
– Matching sheath with wide opening for easy repositioning of the umbrella inside.
---
PRODUCT DETAILS:
– TYPE: MICRO POCKET ULTRALIGHT ANTI U.V.
– MEASUREMENTS: CLOSED 17 cm. – DOME DIAMETER 90 cm.
– DOME: URBAN – 6 SEGMENTS
– TECHNOLOGY: WINDPROOF
– SHAFT: ALUMINUM – METAL SLATS AND FIBER ENDS
– FABRIC: 100% POLYESTER PONGEE HIGH DENSITY AND FAST DRYING
– HANDLE: MATCHING
– SCABBARD: MATCHED
– WEIGHT: 195 gr.
---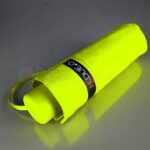 MICRO ULTRALIGHT POCKET UMBRELLA + ANTI U.V . SUNPROTECTION