AUTOMATIC WINDPROOF ULTRA + FOLDING UMBRELLA . CASHMERE
20 April 2021
AUTOMATIC WINDPROOF ULTRA + FOLDING UMBRELLA . CASHMERE
42,00€
DESCRIPTION:
– Automatic umbrella with snap-open with the touch of a button, easily folded and collapsible thanks to its three-section structure.
– Reinforced Windproof Ultra Reversible Drum With Iconic Red Reinforced Joints Original by H.DUE.O.
– The steel and aluminum mechanism with FIBER TERMINALS ensures stability and flexibility at the same time, so that the dome can be tipped over in case of sustained gusts of wind . Tilting the dome facilitates normal repositioning of the structure without damage, easily and immediately.
– High quality materials for long service life, with special anti-corrosion and anti-oxidation treatment.
– 100% Polyester Pongee fabric with high density and fast drying.
– Exclusive design by H.DUE.O with special printing systems that reproduce a precious CASHMERE garment, in three color variations.
– "Glossy" effect transparent tinted handle
– Reinforced "Waterproof Easy Closing" zippered sheath with wide opening for easy repositioning of the umbrella inside.
---
TECHNICAL DETAILS:
– TYPOLOGY: AUTOMATIC
– MEASUREMENTS: CLOSED 28 cm. – DOME DIAMETER 96 cm.
– DOME: CLASSIC/LARGE – 8 SEGMENTS WITH METAL AND FIBER SLATS
– TECHNOLOGY: HIGH-RESISTANCE REINFORCED WINDPROOF "Excellent Wind Test"
– BUST: BUST WITH REINFORCED JOINTS "HDUEO Top Quality Approved" TECHNOLOGY – COLOR BLACK
– FINISHES: HIGH QUALITY ANTI-CORROSION AND ANTI-OXIDATION
– FABRIC: 100% HIGH-DENSITY, QUICK-DRYING POLYESTER PONGEE
– HANDLE: TRANSPARENT IN GLOSSY EFFECT COLOR
– LINING: REINFORCED WITH ZIPPER
– WEIGHT: 335 gr.
---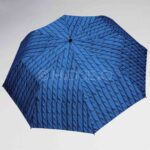 AUTOMATIC WINDPROOF ULTRA + FOLDING UMBRELLA . CASHMERE