H.DUE.O MINI AUTOMATIC OPEN/CLOSE WINDPROOF UMBRELLA ULTRA . VANITY
31 March 2021
H.DUE.O MINI AUTOMATIC OPEN/CLOSE WINDPROOF UMBRELLA ULTRA . VANITY
46,00€
DESCRIPTION:
– Automatic Open/Close umbrella, opening and closing with the touch of a button.
– Reinforced Windproof Ultra + Foldable Drum.
– LARGE size dome with a diameter of 98 cm.
– The Steel and aluminum mechanism with fiber ends provides stability and flexibility at the same time, so as to ensure the Tipping of the dome in sustained gusts of wind. Tipping the dome facilitates the normal repositioning of the structure without damage, easily and immediately, even with the use of the close button.
– High quality materials for long service life, with special anti-corrosion and anti-oxidation treatment.
– 100% Polyester Pongee fabric with high density and fast drying.
– Exclusive Italian Design by H.DUE.O, with special printing systems that reproduce the shimmering shades of PAVONE feathers, in a choice of three color variations.
– Reinforced "Waterproof Easy Closing" zippered sheath with wide opening for easy repositioning of the umbrella inside.
---
TECHNICAL DETAILS:
– TYPE: AUTOMATIC OPEN/CLOSE
– MEASUREMENTS: CLOSED 28 cm. – DOME 98 cm.
– DOME: CLASSIC/LARGE – 8 SEGMENTS WITH METAL AND FIBER SLATS
– TECHNOLOGY: ULTRA WIND REINFORCEMENT "Excellent Wind Test"
– BUST: "HDUEO Quality Approved" TECHNOLOGY – BLACK COLOR.
– FINISHES: HIGH QUALITY ANTI-CORROSION AND ANTI-OXIDATION
– FABRIC: 100% HIGH-DENSITY, QUICK-DRYING POLYESTER PONGEE
– HANDLE: MATCHING THE DESIGN WITH BLACK INSERTS
– LINING: REINFORCED WITH ZIPPER
– WEIGHT: 360 g
---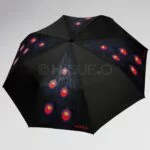 H.DUE.O MINI AUTOMATIC OPEN/CLOSE WINDPROOF UMBRELLA ULTRA . VANITY