BARBARA VEE COLLECTION LONG AUTOMATIC WINDPROOF UMBRELLA . POPPIES
10 December 2020
BARBARA VEE COLLECTION LONG AUTOMATIC WINDPROOF UMBRELLA . POPPIES
42,00€
DESCRIPTION:
– Special Collection BARBARA VEE for H.DUE.O, featuring the iconic themes from the exclusive design with special printing systems.
– Long Automatic Umbrella, snap-open by the touch of a button, with stable and smooth mechanism even with large dome.
– Reinforced Windproof Ultra barrel.
– EXTRA LARGE size dome with a diameter of 102 cm.
– The mechanism using steel, aluminum with fiber slats ensure the flexibility of the dome to best withstand sustained gusts of wind.
– High quality materials for long service life, with special anti-corrosion and anti-oxidation treatment.
– Exclusive POPPIES by BARBARA VEE COLLECTION design with special print quality to achieve the transparencies of poppy petals.
– 100% Polyester Pongee fabric with high density and fast drying.
– Black handle with matching sphere decoration.

---
TECHNICAL DETAILS:
– TYPE: LONG AUTOMATIC
– MEASUREMENTS: CLOSED 90 cm. – DOME DIAMETER 102 cm.
– DOME: EXTRA LARGE – 8 SEGMENTS WITH TOTAL FIBER SLATS
– TECHNOLOGY: ULTRA WINDPROOF "Excellent Wind Test"
– BUST: REINFORCED BLACK COLOR – "HDUEO Quality Approved" TECHNOLOGY.
– FINISHES: HIGH QUALITY ANTI-CORROSION AND ANTI-OXIDATION
– FABRIC: 100% HIGH-DENSITY, QUICK-DRYING POLYESTER PONGEE
– HANDLE: CURVED BLACK WITH MATCHING SPHERE DECORATION
– WEIGHT: 505 gr.
---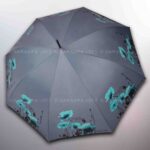 BARBARA VEE COLLECTION LONG AUTOMATIC WINDPROOF UMBRELLA . POPPIES