BARBARA VEE COLLECTION LONG PARAPLUIE AUTOMATIQUE COUPE-VENT . POPPIES
10 décembre 2020
BARBARA VEE COLLECTION LONG PARAPLUIE AUTOMATIQUE COUPE-VENT . POPPIES
42,00€
DESCRIPTION :
– Collection spéciale BARBARA VEE pour H.DUE.O, reprenant les thèmes iconiques du design exclusif avec des systèmes d'impression spéciaux.
– Parapluie long et automatique avec mécanisme d'ouverture par pression d'un bouton, avec un mécanisme stable et souple même avec un grand dôme.
– Barillet renforcé coupe-vent Ultra.
– Dôme de taille EXTRA LARGE avec un diamètre de 102 cm.
– Le mécanisme utilisant de l'acier et de l'aluminium avec des lamelles en fibre garantit que le dôme est suffisamment flexible pour résister à des rafales de vent soutenues.
– Matériaux de haute qualité pour une longue durée de vie, avec un traitement spécial anti-corrosion et anti-oxydation.
– Design exclusif POPPIES by BARBARA VEE COLLECTION avec une qualité d'impression spéciale pour obtenir la transparence des pétales de coquelicots.
– 100% Polyester Pongee fabric with high density and fast drying.
– Poignée noire avec sphère décorative assortie au motif.

---
DÉTAILS TECHNIQUES :
– TYPOLOGIE : LONG AUTOMATIQUE
– MESURES : FERMÉ 90 cm. – DIAMÈTRE DU DÔME 102 cm.
– DÔME : EXTRA LARGE – 8 SEGMENTS AVEC UN TOTAL DE LAMELLES EN FIBRE
– TECHNOLOGIE : ULTRA WIND TEST 'Excellent Wind Test
– BOÎTIER : NOIR RENFORCÉ – TECHNOLOGIE "HDUEO Quality Approved
– FINITIONS : ANTI-CORROSION ET ANTI-OXYDATION DE HAUTE QUALITÉ
– TISSU : 100 % POLYESTER PONGÉ HAUTE DENSITÉ À SÉCHAGE RAPIDE
– POIGNÉE : NOIRE INCURVÉE AVEC SPHÈRE DÉCORATIVE ASSORTIE
– Poids : 505 g.
---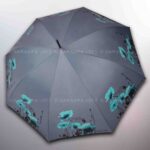 BARBARA VEE COLLECTION LONG PARAPLUIE AUTOMATIQUE COUPE-VENT . POPPIES