AUTOMATIC OPEN/CLOSE UMBRELLA XL WINDPROOF HIGH STRENGTH . AUCKLAND
31 March 2021
AUTOMATIC OPEN/CLOSE UMBRELLA XL WINDPROOF HIGH STRENGTH . AUCKLAND
59,00€
DESCRIPTION:
– Automatic Open/Close umbrella, with snap opening and closing at the touch of a button and stable, smooth movement even with large dome.
– EXTRA LARGE size dome with a diameter of 107 cm.
– High Strength Reinforced Drum.
– The steel and aluminum mechanism with SPECIAL FIBER STECKS ensures the stability and tightness of the dome even in strong gusts of wind and allows the dome to tip over if necessary. Tipping the dome facilitates the normal repositioning of the structure without damage, easily and immediately, including through the use of the close button.
– High-density, fast-drying 100% Polyester Pongee fabric in two colorways.
– Exclusive H.DUE.O design with iconic NAVY FLAGS logos.
– Ergonomic handle designed for perfect grip in strong winds, made of black synthetic leather with matte black details, good even for very large hands.
– Reinforced "Waterproof Easy Closing" zippered sheath with wide opening for easy repositioning of the umbrella inside.
---
TECHNICAL DETAILS:
– TYPE: AUTOMATIC OPEN/CLOSE HIGH STRENGTH
– MEASUREMENTS: CLOSED 32 cm. – DOME DIAMETER 107 cm.
– DOME: EXTRA LARGE – 8 METAL AND FIBER SLATS
– TECHNOLOGY: HIGH-RESISTANCE REINFORCED WINDPROOF "Excellent Wind Test"
– BUST: REINFORCED BUST "HDUEO Quality Approved" TECHNOLOGY – COLOR BLACK AND ALUMINIUM
– FINISHES: HIGH QUALITY ANTI-CORROSION AND ANTI-OXIDATION
– FABRIC: 100% HIGH-DENSITY, QUICK-DRYING POLYESTER PONGEE
– HANDLE: ERGONOMIC BLACK SYNTHETIC LEATHER WITH MATTE BLACK DETAILS
– LINING: REINFORCED WITH ZIPPER
– WEIGHT: 360 gr.
---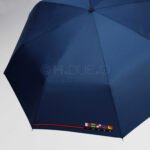 AUTOMATIC OPEN/CLOSE UMBRELLA XL WINDPROOF HIGH STRENGTH . AUCKLAND