AUTOMATIC MAXI XXL WINDPROOF LONG UMBRELLA ULTRA . KILT
31 March 2021
AUTOMATIC MAXI XXL WINDPROOF LONG UMBRELLA ULTRA . KILT
59,00€
DESCRIPTION:
– Long Automatic Umbrella, snap-open by the touch of a button, with extraordinarily stable and smooth mechanism even with Maxi Dome…
– Increased-diameter and reinforced Windproof High Strength drum.
– MAXI XXL size dome with a diameter of as much as 122 cm.
– The mechanism using steel, aluminum with TOTAL FIBER STECKS, ensure maximum flexibility of the large dome to best withstand sustained gusts of wind.
– High quality materials for long service life, with special anti-corrosion and anti-oxidation treatment.
– Reinforced brushed burnished metal ferrule.
– 100% Polyester Pongee fabric with high density and fast drying.
– Classic Scottish and Prince of Wales patterns, a choice of three variations.
– Elegant real wood handle in Flamed Maple color.
– Reinforced "Waterproof Easy Closing" zippered sheath with wide opening for easy repositioning of the umbrella inside.
---
TECHNICAL DETAILS:
– TYPE: LONG AUTOMATIC GOLF MODEL
– MEASUREMENTS: CLOSED 98 cm. – DOME 122 cm.
– DOME: MAXI XXL – 8 SEGMENTS WITH TOTAL FIBER SLATS
– TECHNOLOGY: ULTRA WINDPROOF "Excellent Wind Test"
– SUSHION: MAJOR DIAMETER 15 mm. BLACK COLOR – "HDUEO Quality Approved" TECHNOLOGY.
– FINISHES: HIGH QUALITY ANTI-CORROSION AND ANTI-OXIDATION
– FABRIC: 100% HIGH-DENSITY, QUICK-DRYING POLYESTER PONGEE
– HANDLE: CURVED WOOD COLOR FLAMED MAPLE
– LINING: REINFORCED WITH ZIPPER
– WEIGHT: 560 gr.
---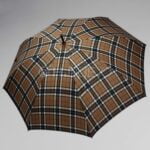 AUTOMATIC MAXI XXL WINDPROOF LONG UMBRELLA ULTRA . KILT