DOUBLE FACE RAIN HAT WITH POUCH . CHECK HAT
4 December 2022
DOUBLE FACE RAIN HAT WITH POUCH . CHECK HAT
24,00€


DESCRIPTION:

– Reversible, Foldable, Adjustable Rain Hat.
–
Practical and comfortable ultralight, ultra-durable, unisex rain accessory.

–
Reversible double face, wearable in two versions, with one side plaid pattern and one side solid color.
– Fabric on both sides 100% High-quality, high-density, quick-drying polyester Pongee.
– Adaptable to different sizes thanks to the repositionable strap to adjust hat circumference.
– Foldable into convenient micro sachet to carry with you in your pocket or purse at all times.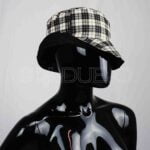 DOUBLE FACE RAIN HAT WITH POUCH . CHECK HAT