ULTRA WINDPROOF AUTOMATIC UMBRELLA . BICYCLE
11 November 2021
ULTRA WINDPROOF AUTOMATIC UMBRELLA . BICYCLE
42,00€
DESCRIPTION:
– Automatic umbrella, with push-button snap opening.
– Windproof Ultra reinforced hexagonal shaft with iconic red joints designed by H.TWO.O
– High quality materials for long service life, with special anti-corrosion and anti-oxidation treatment.
– The tilting mechanism, with fiber terminals, ensures that the dome can be tilted in the event of wind blows and facilitates the normal repositioning of the structure.
– 100% Polyester Pongee fabric with high density and fast drying.
– Exclusive design by H.TWO.O Bicycle, in your choice of two color options.
– Matching liner with Bicycle print.
---
PRODUCT DETAILS:
– TYPE: MINI AUTOMATIC
– MEASUREMENTS: CLOSED 28 cm. – DOME DIAMETER 97 cm.
– DOME: CLASSIC/LARGE – 8 SEGMENTS
– TECHNOLOGY: ULTRA RIBBING WINDPROOF "Wind Test Approved"
– BUST: AUTOMATIC "H.DUE.O approved" REINFORCED, METAL AND FIBER BRACKETS
– FINISH: HIGH QUALITY ANTI-CORROSION AND ANTI-OXIDATION – BLACK COLOR
– FABRIC: 100% POLYESTER PONGEE HIGH DENSITY AND FAST DRYING
– HANDLE: TWO-TONE BLACK WITH MATCHING DETAILS
– WEIGHT: 335 gr.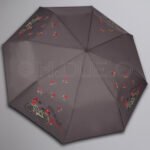 ULTRA WINDPROOF AUTOMATIC UMBRELLA . BICYCLE